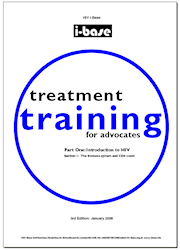 HIV i-Base 2011
8-section treatment training for activists: Updated January 2016.
This resource contains eight modules with questions and answers.
PDF edition and Powerpoint presentations (for older editions)
Translations – (for older editions)
Starting from the basics: CD4 count, viral load, combination therapy (ART) and side effects, main opportunistic infections. There are modules on pregnancy and another on IV drug users and treatment. There is a module on clinical trials and research.